A Famly United | Dating and Family Threats
There are things that we say because we're supposed to
When Someone Shows you a picture of their baby
When your spouse asks how you look in an outfit
When a friend is being hard on themselves
When it comes to family, there are things that, as a pastor, I'm supposed to say…
Like:
Marriage is important
Marriage is hard but worth it
Kids are a blessing from God
Don't date someone unless you intend to marry them
But our culture also says things
Marriage is hard – If it doesn't make you happy, find someone who will
Kids are a burden and keep you from achieving all that you want/can
Date around to see what you like – Have fun while your young
Live with someone first to see if you are compatible
When it comes to truths such as this, they both cannot be true
So we need to decide what is true
Of course, as a pastor, and as Christians, We know what the "RIGHT" answers often are
But often we are not following what we "KNOW" to be right
If you are in a hard marriage place
God's has so much grace
Love you and your spouse
Wants to see your marriage thrive
Single again
God sees your pain
He sees your Loneliness
Wants you to find yourself in HIM and not in another
Whatever we talk about today is not to condemn you
You are not your past
You are who God says you are
In HIM, you can overcome the worst of things
John 8:31-32
31 Then Jesus said to the Jews who had believed him, "If you continue in my word, you really are my disciples. 32 You will know the truth, and the truth will set you free."
We will cover these things:
1: Dating
Even if you are not dating now, you still need to hear
2: Dangers facing the Family Today
1: Dating
Let's look at a few phrases:
hookup culture
Sowing your wild oats
Playing the Field
Having a true college experience
Friends with benefits
Let's take the first few…
Hookup culture/Playing the field
Since the Late 60's/Early 70's, the sexual revolution has brought the sexual revolution to the world
Since that time, premarital sex has increased every decade
But there are many problems this brings
The most startling is how premarital sex leads to significantly more chance of divorce…
Often, the reason that so many sexual partners happen is commitment issues.
There's this idea that 'once I find a really good relationship, then I'll commit to it.' That's backward. Without commitment, there's no such thing as a 'really good relationship.'
But what about committed relationships that aren't married…
Cohabitating
1. Married adults are more likely than cohabiting adults to report relationship satisfaction
2. Married adults are also more likely to report higher levels of relationship commitment than cohabiting adults
3. Finally, married adults are more likely than cohabiting adults to report higher levels of relationship stability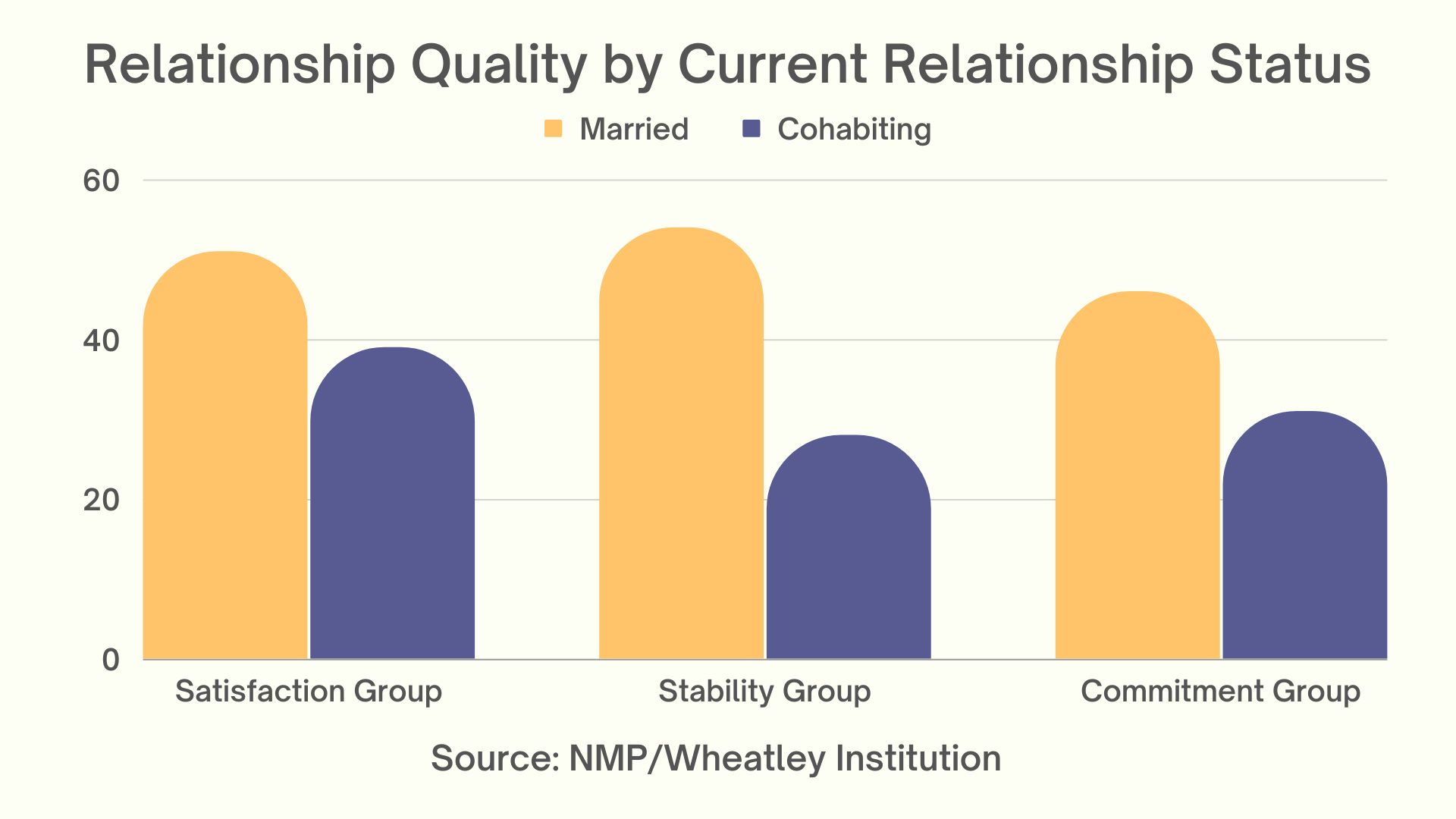 Cohabitating relationships are significantly more likely to break up than married relationships, including cohabiting unions that include children. ~ Institute for Family Studies
So why is this true?
What does Christian scripture tell us about dating, marriage, and happiness?
Proverbs 5:1-14
1 My son, pay attention to my wisdom; listen closely to my understanding
2 so that you may maintain discretion and your lips safeguard knowledge.
3 Though the lips of the forbidden woman drip honey and her words are[b] smoother than oil,
4 in the end she's as bitter as wormwood and as sharp as a double-edged sword.
5 Her feet go down to death; her steps head straight for Sheol.
6 She doesn't consider the path of life; she doesn't know that her ways are unstable.
7 So now, sons, listen to me, and don't turn away from the words from my mouth.
8 Keep your way far from her. Don't go near the door of her house.
9 Otherwise, you will give up your vitality to others and your years to someone cruel;
10 strangers will drain your resources, and your hard-earned pay will end up in a foreigner's house.
11 At the end of your life, you will lament when your physical body has been consumed,
12 and you will say, "How I hated discipline, and how my heart despised correction.
13 I didn't obey my teachers or listen closely to my instructors.
14 I am on the verge of complete ruin before the entire community."
Don't be seduced by the world's version of Dating
It is a world of brokenness and death
Date with a purpose in mind
God's purpose for your like
Tips for dating with Purpose:
1 – Date with marriage in mind
Can't see yourself marrying them, then don't date them
2 – Keep boundaries and don't trust yourself
Set good physical and emotional boundaries
Have someone outside your relationship keep you accountable
Be humble in that accountability
3 – Only date someone who is a believer
Can't "date them into the kingdom"
Purse God individually and you will grow together
2: Dangers facing the Family Today
1: Anti-Christian Culture
Our culture is quickly moving from the Christian system of morality and belief
Fewer and fewer family and friends of our children have a Christian worldview
What is taught in the church must be reinforced in the home
Children reflect on what they see
2: Divorce
A study by DEMOGRAPHIC RESEARCH found:
"Divorce appears to have a bigger impact on children's educational attainment than parental death."
3: Busyness
Satan uses busyness to think we are being productive
Our relationships, our families, and our churches are faltering.
Church attendance is at an all-time low
4: Lack of Father Figure
A study that focused on Sunday school
When both parents attend Bible study in addition to the Sunday service, 72% of their children attend Sunday school when grown.
When only the father attends Sunday school, 55% of the children attend when grown.
When only the mother attends Sunday school, 15% of the children attend when grown.
When neither parent attends Sunday school, only 6% of the children attend when grown.
5: Financial Pressures
Everything is more expensive puts added pressure on the marriage relationships
Cost of living increases
Trying to keep up with everyone else
Younger couples are waiting longer and cohabitating more due to financial issues
6: Negative Media Influences
Being desensitized to the things that are not of God
Agendas on TV, internet, and News
Pornography
Easier now than ever to access
Does real damage to your brain
This leads to more loneliness
This leads to dissatisfaction in married sex life
7: Balance of Work and Family
Mom and Dad tired
Kids begin to make decisions for themselves that should be made by parents
Kids are being raised by culture because parents' focus is elsewhere
Husband and wife leading separate busy lives having little time and energy for each other
So How can we combat all this?
1: Know that what we face has been faced by Christians before
1 Corinthians 10:13
13 No temptation has come upon you except what is common to humanity. But God is faithful; he will not allow you to be tempted beyond what you are able, but with the temptation he will also provide the way out so that you may be able to bear it.
2: Have friendships that protect you and help you grow
1 Corinthians 15:33
33 Do not be deceived: "Bad company corrupts good morals."
3: Be very careful of what or who you allow into your home
1 Peter 5:8
8 Be sober-minded, be alert. Your adversary the devil is prowling around like a roaring lion, looking for anyone he can devour.
4: Put God First in every aspect of your life
Matthew 6:33
33 But seek first the kingdom of God and his righteousness, and all these things will be provided for you.